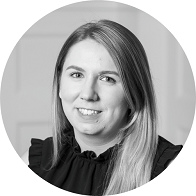 Helen Green
Solicitor
Helen graduated from The University of Sheffield in 2012 with a degree in European, International and Comparative Law. During her degree she enjoyed being able to spend time studying at the University of Helsinki in Finland as well as the University of Utrecht in the Netherlands.
After completing her post graduate qualifications at the University of Law in Manchester and her training contract with another local firm, Helen joined McHale and Co as a newly qualified Solicitor in June 2017.
Helen specialises in estate administration and trust matters as part of the private client team. She also has experience in Wills, Powers of Attorney's, Court of Protection and advising the elderly. She works across all our offices and regularly visits clients in their home and in care.
Since joining McHale and Co., Helen has gone on to achieve a distinction in her STEP diploma in Trust and Estate administration and is now an accredited Trust and Estate Practitioner and affiliate member of STEP.
Outside of work she enjoys reading, cooking and walking and exploring with her Border Collie Skye.